Clam fritters may not be the healthiest food, at least not how I make them, but they are so good it makes cheating on a diet less shameful. I grew up on seafood and clam fritters were one of the first seafood recipes I learned. It's actually not much to making homemade clam fritters, but there are a few secrets.
The first secret is a solution to getting the clams open. It can be a real pain in the butt opening clams, so I use a trick my grandmother taught me. It's great for keeping the mess down too! Just put the clams on a cookie sheet and pop them in the freezer for about an hour. Slip a knife through the slit and tap the end with a small hammer if it's not popping open. Once the clam is open you can use a spoon to scoop everything out. Since the clams are frozen there's no juice to fly around everywhere, which is a major bonus.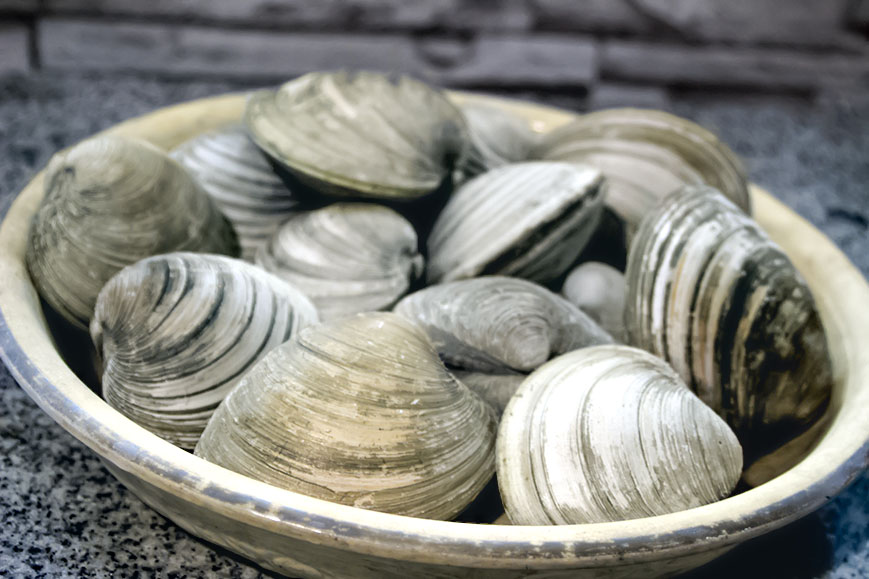 The second tip for a great clam fritter is chopping up the clams. Doing this by hand is time-consuming so I like to use a manual food chopper. I found one on Amazon (they're also at Walmart) and it has been perfect for so many things. It chops clams perfectly and does a lot of other things too (like mixing, slicing, shredding...).
You just pull the handle repeatedly until you get the results you want. I LOVE it, and it's under $12! You want minced clams, with as few large pieces as possible. This helps to distribute the flavor evenly.
The final tip I have for the perfect homemade clam fritters is baking powder. It gives the fritters a beautiful puff that takes them from flat and floppy to fluffy and crisp.
I hope you love this clam fritter recipe as much as I do and I'd love to hear any variation on the recipe that you have. Be sure to check out our other recipes while you're here.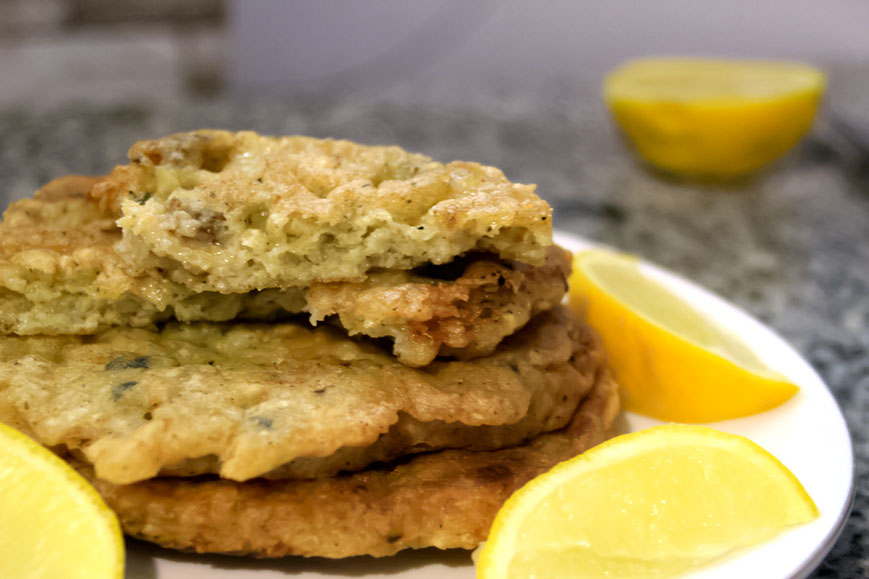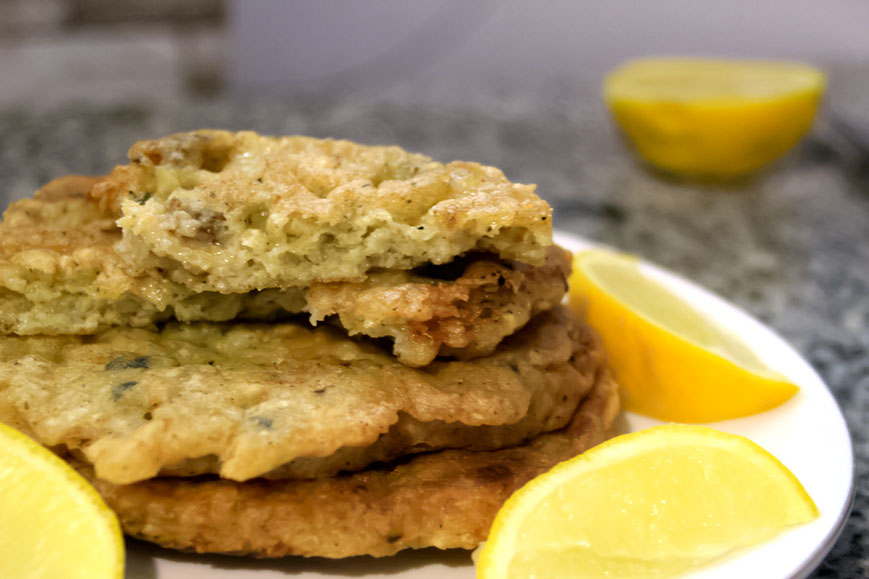 Homemade Fresh Clam Fritters
Ingredients
1 pint of shucked clams (about 18 clams)
½ cup reserved clam juice
2 teaspoons baking powder
1 ¾ cups flour
2 eggs
2 teaspoons minced onion
1 teaspoon Old Bay
1⁄8 teaspoon pepper
4 tbsp. vegetable oil (for frying)
Instructions
Preheat your oil to 360°F
Mix flour and seasonings together in a large bowl
Add remaining ingredients and whisk together to form a batter
Use a ladle to drop the batter into the pan (carefully, the oil is hot!) like pancakes, being sure that they're not too big
Cook for 3 - 4 minutes (or until golden brown) on each side
Remove to a paper towel-lined plate to drain excess oil and repeat until you use up all of the batter
Serve warm
Nutrition Information
Yield

8
Serving Size

1 Fritter
Amount Per Serving
Calories

219
Total Fat

4g
Saturated Fat

1g
Trans Fat

0g
Unsaturated Fat

3g
Cholesterol

85mg
Sodium

930mg
Carbohydrates

24g
Fiber

1g
Sugar

0g
Protein

19g
Pin These Homemade Clam Fritters