DIY Breakfast Bar For Your Home
If I had a dollar for every time I've heard "Breakfast is the most important meal of the day" I'd have a lot of dollars! It's true, breakfast is the cornerstone of the day – giving you the energy to do the things you have to and setting the pace for your metabolism. It's not always convenient to eat breakfast, which is one reason many people skip their morning meal. For me, the logical solution was to create a breakfast bar in the kitchen and with a little help from Spectrum Diversified (they provided the products mentioned in this post), breakfast is not only convenient but pleasant as well. Everything is easy to get to and organized, which makes the OCD part of me happy.
How to Create a Breakfast Bar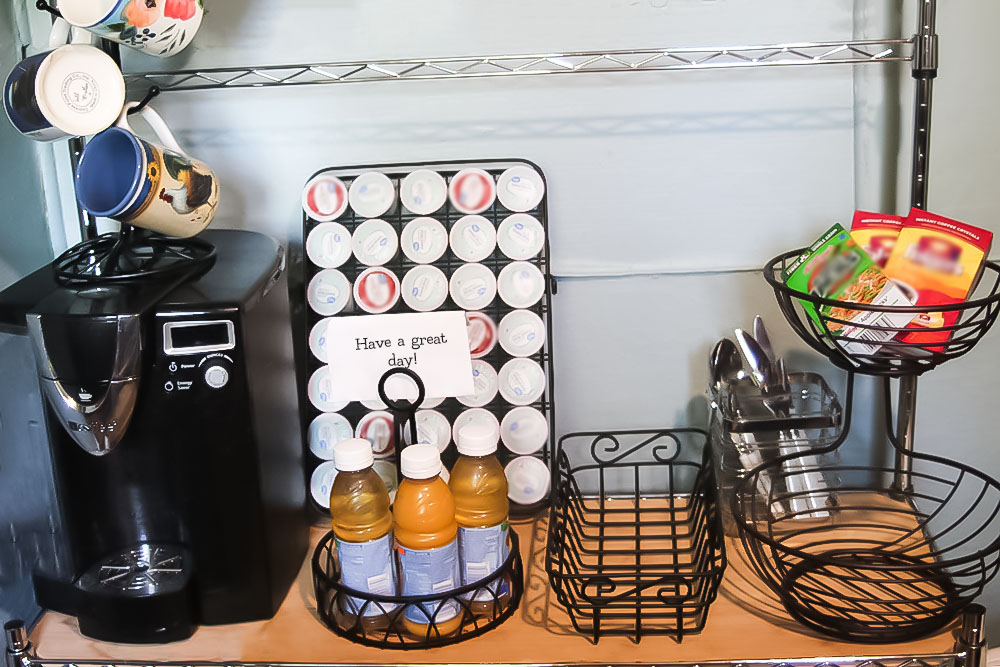 There are a lot of options when it comes to making a breakfast bar. You can build one, you can buy a premade one, or you can turn a baker's rack into a breakfast bar like I did. Ultimately it's up to you and how much space you have to work with. Since I have a tiny kitchen, using the furniture that was already in there was the best option.
Once you have the base of your breakfast bar in place, it's time for setting up. There's no set rule for what you do and don't have on your breakfast bar. If you're at a loss for ideas, maybe a little show and tell will help. Here's how my breakfast bar is set up.
Setting Up a Breakfast Bar with Spectrum Diversified
The most important thing for my family in the morning is coffee. Mainly because if I don't have it, the day isn't off to a good start. I have my single-cup brewer and a variety of coffee pods at the ready. The Scroll 35-Pod Coffee Caddy lets me grab a pod and pop it in without wasting any time. It's sturdy, gorgeous, and oh-so-functional.
If you have an eclectic collection of coffee mugs, the Leaf 6-Mug Holder is an awesome way to show them off. Not to mention, having the cups right there is extremely helpful.
For the non-coffee drinking bunch, I use the Twist Condiment Stand to present a variety of juice options. Sure, it's great for holding things like ketchup, mustard, and hot sauce – if you're into that kind of thing. It can be used any number of ways, which makes it a great buy! It has a card holder on top too, so you can add cutesy inspirational quotes or important messages each morning.
To encourage everyone to eat breakfast I try to keep the Scroll Bread Basket filled with baked goods. I do the baking at night, store the goods in an airtight container, and bring them out before everyone else is awake. Usually, I'm lazy and just buy the baked goods, but it's the thought that counts.
Not everyone can handle heavy baked goods in the morning. The Wright Arched 2-Tier Server lets me offer up a number of things, from fruits and individual cereal boxes to instant coffee and yogurt. as alternatives without taking up a ton of space. This is perfect for mid-day snacking too.
I keep a stack of saucers and bowls at the ready, and of course, people need something to eat with. The Contempo Cube Silverware Caddy makes it easy to grab silverware without digging through a drawer to find a spoon or fork. I love that it has a handle that makes carrying it around incredibly easy (it's perfect for picnics!).
Once I finish tiling the kitchen floor I'm going to add a couple bar stools to complete my breakfast bar.
5 Reasons You Need a Breakfast Bar
A breakfast bar is a great way to make sure your family gets their morning boost.
They look great and add a nice aesthetic to your home.
They can be placed anywhere there's extra space.
They work in any size home.
They make life more convenient, especially in the morning.
Now, Check Out These Posts