Instant Pot Ham and Potato Soup
This Instant Pot Ham and Potato Soup will become your next favorite meal. It's the perfect way to use up leftover ham and to bring a delicious meal to the table in less than 30 minutes.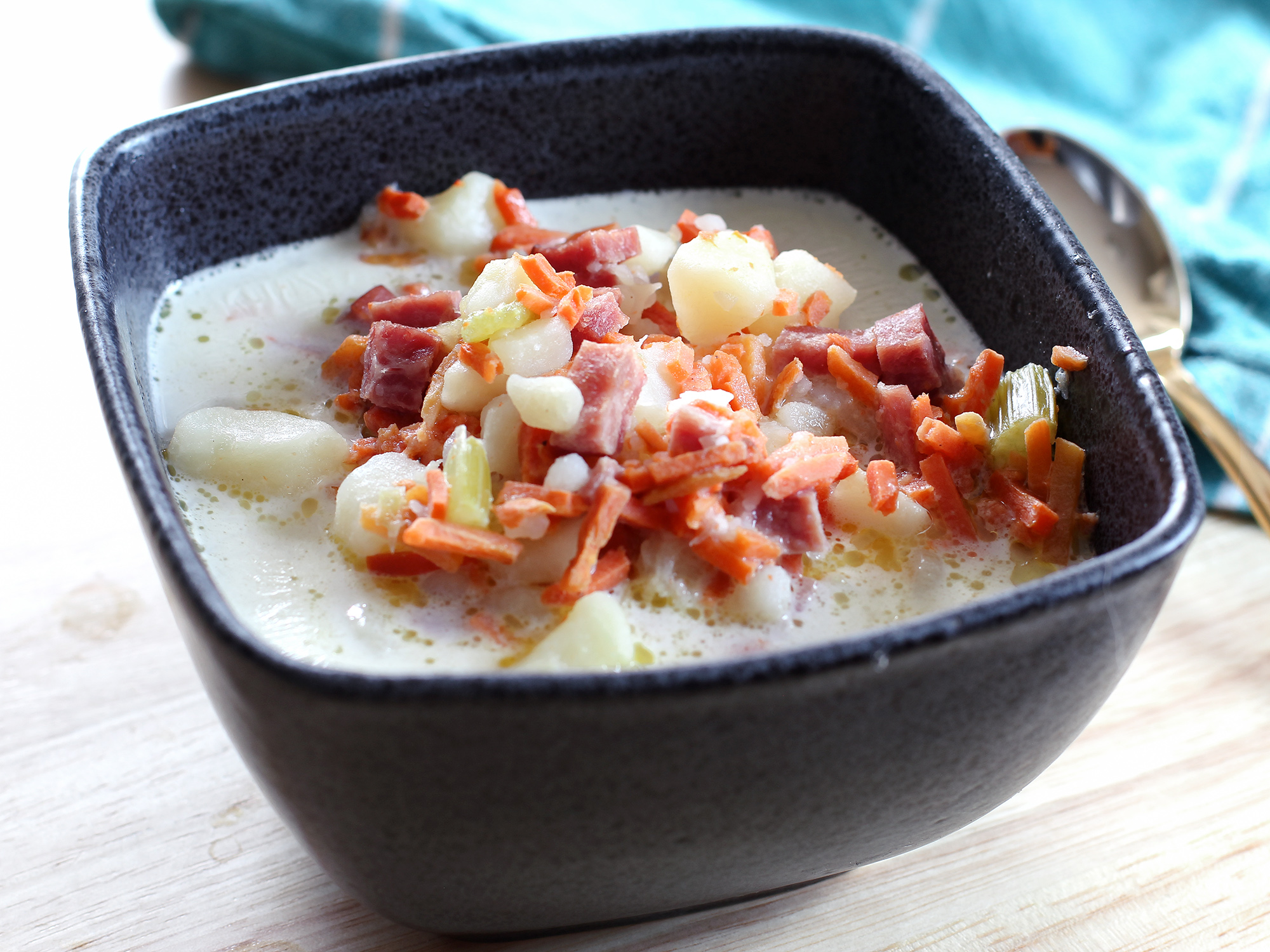 It has been quite a while since I've had ham and potato soup. The last time I had it was at a restaurant and I was less than impressed. I assumed all ham potato soups were as bland and lacking as that one so I didn't have any desire to try it again. That is, until the other night when I wanted soup and happened to have a couple of boneless ham steaks in the refrigerator.
I also had a few Russet potatoes that needed to be used or tossed. Instant Pot Ham and Potato soup was the logical choice given the ingredients. And what a quick list of ingredients it is! I didn't have to buy anything extra, I had everything I needed to make my soup on hand.
Instant Pot Ham and Potato Soup Ingredients
The most important part of this recipe is the ham. I used ham steak, but you can also use leftover (or fresh) ham. For me, using a ham steak is easier because of my lack of carving skills. I can quickly and easily cut a ham steak into cubes.
Other Instant Pot ham and potato soup ingredients are:
Russet potatoes
Chicken stock (or vegetable stock, or make your own ham stock using a meaty ham bone)
carrots
celery
onions
garlic
heavy cream
salt + pepper
cheddar cheese (optional)
Instant Pot Potato Soup Recipe Tips:
Everyone has their own way of making soup, but these tips will help make sure this Instant Pot Ham and Potato Soup recipe is successful.
Try to keep the cubed ham slightly smaller than the potatoes. Don't cut the potatoes too small or they'll break down during cooking. Aim for 1/2 inch ham cubes and 1 inch potato cubes.
Russet potatoes are my preferred potato for soup due to the natural thickening they offer when cooked. If you prefer a thinner soup, you may want to try Yukon Gold or even baby red potatoes.
Sauteing the vegetables adds a welcomed level of yum to the recipe; don't skip this step!
Using a low-sodium stock will help make sure the soup isn't too salty. Ham is already plenty salty, so be sure to not overdo it.
You'll add the cream at the end of cooking instead of before cooking. This will prevent any curdling and let you control the thickness of the soup. The longer you stir, the thicker it will become.
If you want to quickly thicken up the soup you can mash up a few potatoe
The quick release at the end of cooking will keep the potatoes from cooking too much; don't skip this step!
Can I Make a Keto Ham Soup?
If you're looking for a way to enjoy this recipe and stick to a keto diet, then you're in luck! While you can't use the potatoes the original recipe calls for, there are low-carb options to replace them with.
I've only tried this once, but it was delicious and there was barely any difference. Instead of potato and ham soup, I made a turnip and ham soup. I did everything the same, I just swapped diced turnips for the potatoes.
Other keto potato alternatives include:
cauliflower
rutabaga
radish
You may like to try Instant Pot Cauliflower Soup or Keto Broccoli Cheese Soup. They are great for those doing keto or looking for low carb soup recipes.
Potato Soup Topping Ideas
The Instant Pot Ham and Potato soup is absolutely delicious as is, but it's always fun to experiment with toppings. A few of my favorite potato soup add-ons so far have been
crispy bacon

crumbles

seasoned croutons
shredded cheese (sharp cheddar!)
chives
smoked paprika
Can I Freeze Ham and Potato soup?
You can technically freeze potato soup but I wouldn't recommend it. It's been my experience that potatoes frozen in soup turn grainy and mealy.
If you choose to freeze leftovers, let the soup cool completely and pour into a freezer bag or an airtight container. To reheat, let it thaw overnight in the refrigerator and heat up on the stovetop over medium heat.
You can keep leftover ham and potato soup in the refrigerator for up to four days.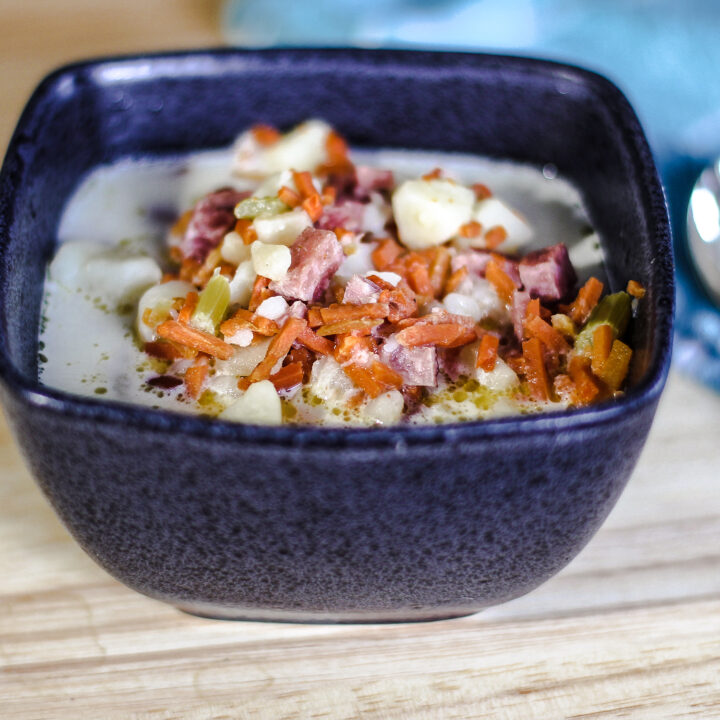 Instant Pot Ham and Potato Soup
Ingredients
2 Tbsp butter
1 medium onion, chopped
2 cloves garlic, minced
3 carrots, peeled and sliced
2 stalks celery, chopped
1 lb cooked ham, cut in 1/2 - 3/4" cubes
3-5 Russet potatoes, peeled and cut in 1″ cubes
16 oz chicken stock, low sodium
1/3 cup heavy cream
salt and pepper, to taste
Optional Toppings
Shredded Cheese
Bacon Crumbles
croutons
Chives
Smoked Paprika
Instructions
Press the "Saute" button on the Instant Pot. Let heat up for 3 minutes then melt the butter. Add in the carrot, onion, garlic, and celery and cook stirring, occasionally, for 5 minutes.
Add the ham, potatoes, and stock to the Instant Pot and close the lid. Lock the lid, turn the valve to "SEALING" and cook on Manual Pressure (HIGH) for 10 minutes.
When the Instant Pot beeps, press the Cancel button. Turn the valve to "VENTING" to do a quick release.
Once the pressure is out (the steam has stopped coming out and the lid turns easily), open the lid and stir in the heavy cream. The longer you stir, the thicker the soup will become.
Serve warm with salt & pepper (if needed) and toppings of choice.
Nutrition Information
Yield

6
Serving Size

1 1/2 cup
Amount Per Serving
Calories

406
Total Fat

17g
Saturated Fat

8g
Trans Fat

0g
Unsaturated Fat

7g
Cholesterol

84mg
Sodium

1196mg
Carbohydrates

39g
Fiber

5g
Sugar

5g
Protein

26g
If you're looking for more Instant Pot meals, be sure to check out my Instant Pot Minestrone! Also, The instant Pot Table has a great Instant Pot Taco Soup that's perfect for keto followers.
Now, Check Out These Posts
Pin This Instant Pot Ham & Potato Soup