Funfetti Cake Mix Cookies with Cream Cheese
These Funfetti cake mix cookies with cream cheese are quite possibly one of my favorite treats to bake. Not only are they incredibly easy, but they're super versatile too. You can experiment with an unlimited number of flavor combinations and be satisfied every time.
Making Funfetti Cake Mix Cookies
These are obviously cake-like cookies, but you can bake them a few minutes longer for a crispier texture. You can also use a smaller amount of mix to make them a little thinner. I suggest playing around with the amount you use per cookie to get your ideal cookie thickness and texture.
I have a habit of buying boxed caked mixes whenever they're on sale and was desperate for a boxed cake mix recipe to use some up.
Boxed Cake Mix Cookie Variations
I've been experimenting with flavor variations and have a few favorites so far.
German Chocolate cake mix + Cream Cheese + Crushed Pecans + Toasted Coconut
Lemon cake mix + Cream Cheese + Lemon Zest
Strawberry cake mix + cream cheese + dark chocolate chips
White cake mix + cream cheese + caramel chips
Chocolate cake mix + cream cheese + milk chocolate chips
Chocolate cake mix + cream cheese + mint chips
I'm by no means done with my experiment, it's too tasty to give up! What flavor combinations do you think would be great?
If you're looking for another way to use up cake mix, check out my chocolate + cherry drop cake – it's to die for!
Cake Mix Cookies Ingredients
You only need 5 ingredients to make these Funfetti cookies, and chances are you have them in your pantry already.
Confetti/Funfetti cake mix
White chocolate baking chips
Unsalted butter
Egg
Cream Cheese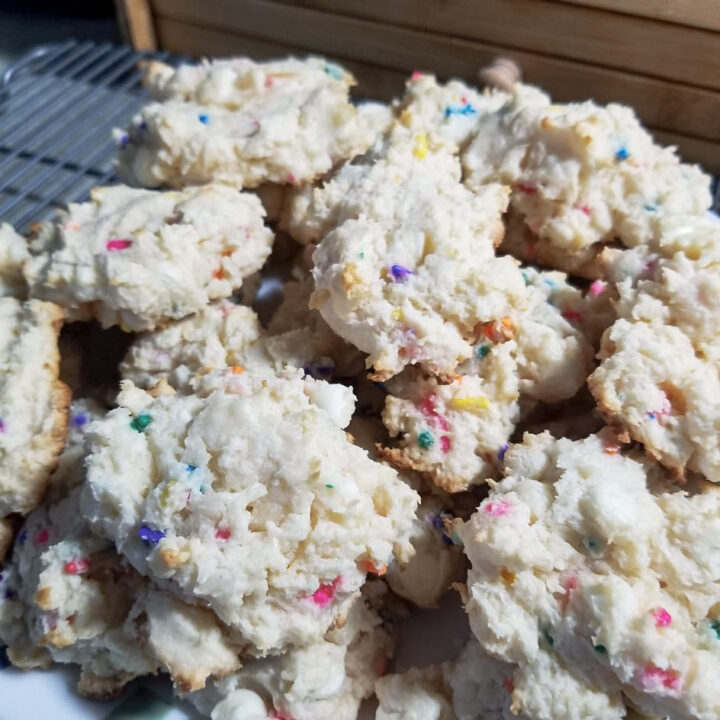 Cake Mix + Cream Cheese Cookies
Ingredients
1 box Funfetti/Confetti cake mix (15.25 oz)
4 oz cream cheese, room temperature
1/2 c butter, room temperature
1 large egg
1 c white chocolate bakingchips
Instructions
Preheat oven to 350 degrees. Cream together butter and cream cheese in the bowl of a stand mixer or with a hand mixer.
Add the egg and blend until fully mixed together.
Add the cake mix and blend slowly, gradually increasing until all lumps and powder are gone.
Add white chocolate baking chips and mix thoroughly.
Drop by the spoonful onto a cookie sheet lined with parchment paper. Bake for 10 minutes, until edges are brown.
Cool on a wire rack and continue baking in batches until all of the mix is used up.
How Long do Cake Mix Cookies Keep?
These cookies don't last long in my house. If you happen to have leftovers, you can store them in an airtight cookie jar for up to three days.
What Can You Add into my Cookies?
You can truly add anything to cake mix cookies to make them as unique or as traditional as you want. Some of my favorite add-ins are
chocolate chips
white chocolate chips
yogurt covered cranberries
M&Ms
nuts (pecans, walnuts, peanuts)
Reese's Pieces
sprinkles
peanut butter chips
I haven't tried candies yet, but I'm toying around with the idea of gummy worms and red hots! As if I needed more reasons to buy boxed cake mixes, my imagination is running wild and my taste buds are benefitting.
Now, Check Out These Posts